09 Dec

EASM welcomes new Communication Manager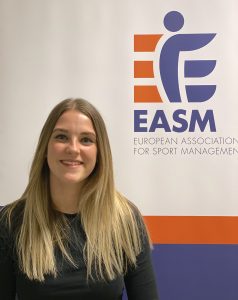 EASM is pleased to welcome Lara Hudson as a new member of the office team in Cologne, Germany. Lara has joined on 1st November 2019 as the EASM communication manager with responsibilities ranging from regular communication with members and stakeholders through existing channels to the strategic development of new ways of interaction. In her first month Lara has extensively researched new communication and information platforms for members and is looking to bring tangible benefits to the sport management community.
Lara recently started a master programme in Sport Management at the German Sport University in Cologne after graduating with a bachelor degree in economics from University of Leeds. Growing up in a bilingual environment in the United Kingdom, Lara is fluent in German and English. She has experience as a research assistant and administrative roles throughout a number of industries, though her passion is in sport business. Lara has previously been an active contributor and leader in membership organisations and is eager to aid EASM with her expertise.
The entire EASM board welcomes Lara to the team and is looking forward to working together on improving communication to help reach EASM's strategic priorities.