Chelladurai Award
The Chelladurai Award is a prestigious EASM award and recognises lifetime achievement in the field of sport management.
New Criteria
The nominee must meet the following criteria:
Have made significant contribution in one or more of the following areas:

Conceptual, empirical, or theoretical developments.
Creating and disseminating new knowledge.
Advancing the pedagogy and teaching of the sport management discipline.

Have a minimum of ten years' service in sport management as a lecturer, researcher, administrator, or combination of thereof.
Reflect EASM's values in leadership, service, scholarship, and collegiality.
The following (non-exclusive) criteria are taken into consideration by the Award Committee to assess the nominations. Candidates who meet one or more of the criteria are eligible:
Articles in high quality academic peer-reviewed journals (including sport-related articles in other disciplines);
Cited Publications (articles, books, book chapters, edited volumes);

 

Supervisor of successful researchers (e.g. awarded PhD students, lecturer, senior lecturers, assistant professors, associate professors, and professors);
Outstanding performance in promoting EASM and/or ESMQ (e.g. as editor of special issues of ESMQ, organiser of special workshops at EASM);
Research awards and other formal recognitions;
Editorship, associate editorship, or editorial board membership of a peer-reviewed journal of high standing in sport management.
---
Nomination Procedure
The deadline for the EASM Awards nomination is 20th May each year. The nomination package should include the following:
A letter of recommendation[no more than two pages] to the Award Committee chair that specifically describes the person's accomplishments in relation to the award criteria. The letter should clearly identify the award the person is being nominated for, and justify why the person deserves the award.
We encourage up to three[no more than three] letters of support for inclusion in the nomination package.
A resume, CV or brief biography for the nominee (can be pulled from faculty webpage or other online source).
Nominators must be EASM members in good standing and should email the nomination to the Chair of the Award Committee. The Award Committee may subsequently request additional information from the nominator. All nominations will be assessed in confidence.
---
Submission Process:
Individuals who accept their nomination will be asked to submit a CV and a two-page statement describing their qualifications for the award. These items must be submitted no later than 1stJuly.
NOTE: It is expected that the Chelladurai Award recipient will deliver a scholarly lecture at the Annual EASM conference.
---
Award Winner 2015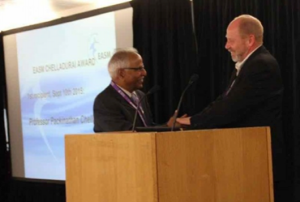 Packianathan Chelladurai
Award Winner 2016
Trevor Slack
Award Winner 2017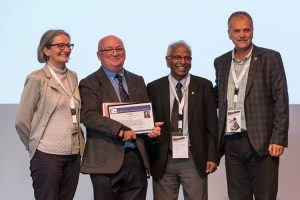 Ian Henry
Award Winner 2019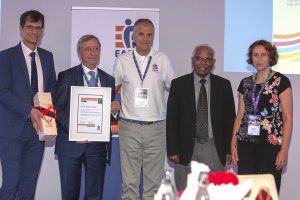 Wladimir Andreff
Wladimir Andreff entered sport economy 42 years ago – a time when many of us were not even thinking of this subject. Wladimir studied economics and did his phd dissertations and second phd work and then applied for the French "short track way" to become a full professor. In this elitist nation-wide competitive examination among 150 candidates he became 13th and got a professorship offered in Limoges with being only 30 years old! He participated in 1977 in the launching process of the famous CDES which is a true sport law & management center. In other words, Wladimir Andreff is truly a founder and pioneer of our research field.
After his time in Limoges he was 11 years at the University of Social Sciences of Grenoble. In 1990 he returned to Paris 1, Panthéon Sorbonne University and is there a very active Emeritus Professor until today.
Until today Wladimir wrote 30 books (11 in Sports economics) and 432 articles. His wife Madeleine co-authored about 20 economic papers with Wladimir.
If we take a book by 125 pages only and an article by 15 pages and put all words in one line, this line would reach 73 km.
Since 1973 he was at about 400 scientific conferences of which 187 were abroad including 55 keynote speeches. If we measure not the distance but the time, then the "presenting time" of Wladimir was 5.9 days 24/7.
In his spare time, he is/was Editorial Board member in 25 journals and reviewed endless papers in other journals.
Wladimir traveled a lot. He was involved in extremely many projects with governments and sport federations and was teaching all around the world. Wladimir speaks 5 languages and published in many more.
In his 168 publications in the area of sports management and economics he published a lot about
The winner's curse: cost underestimation in hosting mega-sporting events,
Economic forecasting models of Olympics medal wins,
Our last joined book about cost and revenue overruns of the past 10 Olympic Games
and his last forthcoming book: "An economic roadmap to the dark side of sport"
He managed to connect economics with sport economics and sport economics with sport management – this is why he is the person that deserves to receive the Chelladurai Award. Wladimir, you have a real open mind, a fine character, you are always ready for jokes, precise in critiques and most important supporting many young scholars – Congratulations for this price!
from the laudatory speech by Holger Preuß