27 Nov

EASM Summer School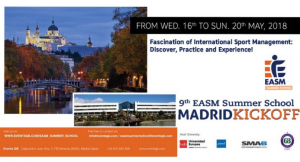 EASM SUMMER SCHOOL 2018  – DON'T MISS THIS OPPORTUNITY! MADRID KICKOFF
Fascination of International Sport Management: Discover, practice and experience
Make your own experiences during 9th EASM Summer School 2018, which will be held for the first time in Madrid.
The EASM Summer School is a great chance to gain insights into up to date sport topics of renowned international lecturers at one of the most prestigious private Universities in Spain, Universidad Europea de Madrid. Its School of Sports Science is the only in Spain which has a Degree in Sports Management.
EASM offers an International Business environment with students from all over the world. It gives the opportunity to Bachelor and Master Students to know one of Europe's biggest cities with its vibrant life and culture.
Facts & Figures:
Date: 16th – 20th May 2018.
Place: Campus of Universidad Europea de Madrid, Spain
Content: Focus will be on International Sport Marketing. Knowledge in this field is essential to all sport managers of non-profit and for-profit sport organizations.
Learning objective: Getting new insights and expertise in the field of International Sport Marketing. Furthermore, students will be able to apply professional marketing tools in sport organizations.
Credits: We recommend 6 credits (ECTS) for EASM Summer School
For more information about the last EASM Summer Schools, please visit the EASM Summer School website, there you find all information e.g. about last editions, content and program details.
If you are interested in participating or you need further information please feel free to contact us at: easmsummerschool@eventsgb.com or our Facebook fanpage!
DEADLINE FOR REGISTRATION: 1st March, 2018
Registration EASM Summer School, click here
Gerardo Bielons
Director GB Events
Email: gerardo@eventsgb.com