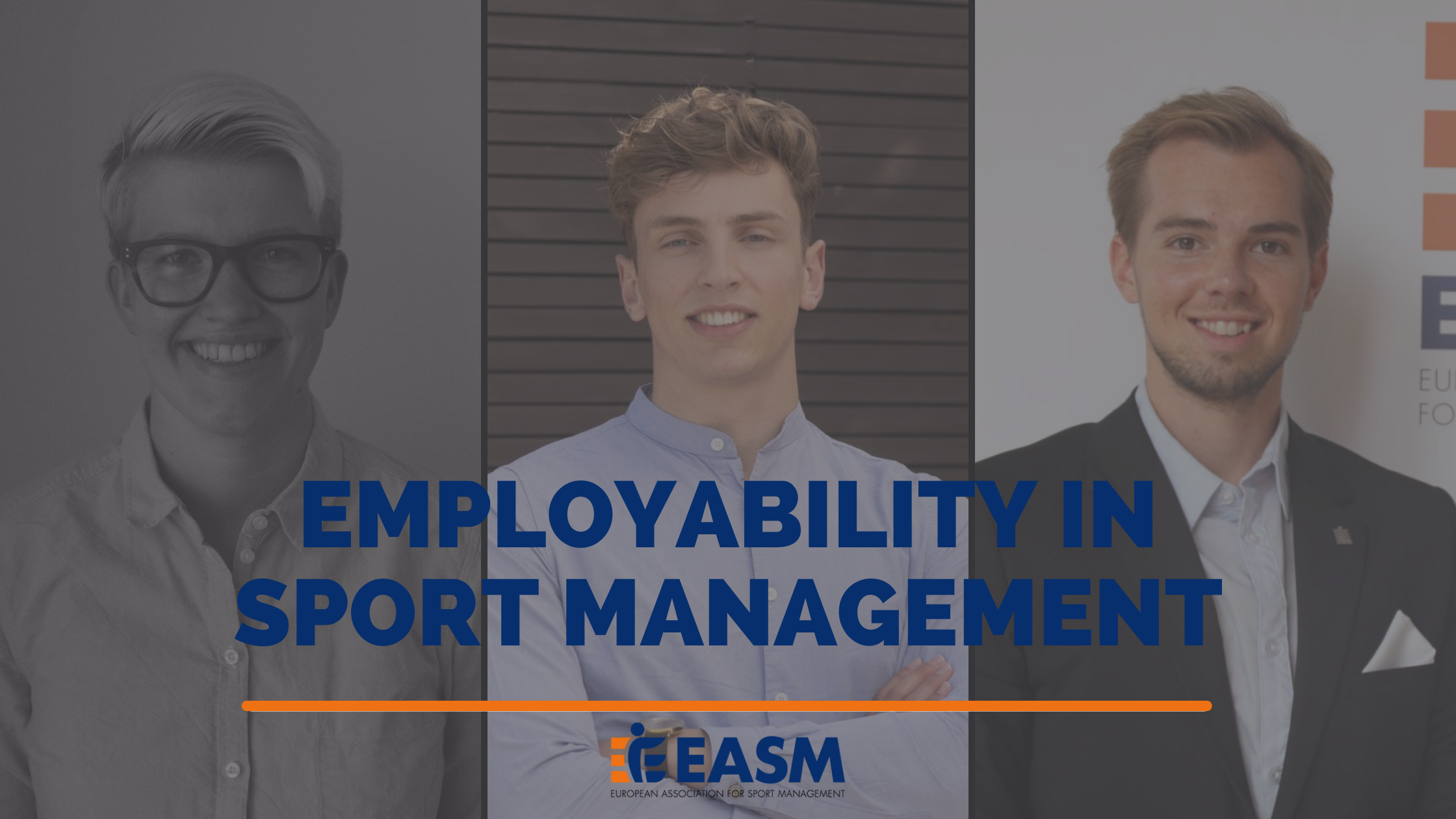 10 Nov

Employability in Sport Management – Post 1 – Introduction

Dear students,

Welcome to the ''student employability'' blog! This blog has been put together by the EASM student team, consisting of student representatives Christian Overduin and Emma Baker, and board member Jakob Wikenstaal.

This is our first blog post where we introduce to you why we are setting up a focus on employability in Sport Management and what you can expect from this space as well as our vision and student benefits.
Employability in Sport Management
The idea of employability advice and training has been raised by many of our members, especially you that are sport management students, and we have now been developing a model to put this idea into practice. We will be using this space, a student employability blog to publish posts about employability in Sport Management and helping you to progress in your career.
We have been working with a variety of people, including Steve Osborne, a career and employability expert from Cardiff Metropolitan University and the head of a European-wide ERASMUS project on student employability. Steve, amongst others, will share his knowledge and experience around careers and employability in sports and will offer you unique insights on how to become the best professional version of yourself.
The student employability blog
Blog posts will each have a specific topic and will revolve around your career. This may range from career planning and industry awareness to practical advice on job search and self-presentation skills. We have a variety of topics prepared already and we will regularly be posting a blog post on this page to provide you with new insights into Sport Management.
EASM student benefits
In recent years, we have been working hard to upgrade and expand the services we offer to students in Sport Management. With all of our in-person events being cancelled in the last year-and-a-half due to the COVID-19 pandemic, we have been looking at the digital space to offer a unique experience for students and a reason to be part of the EASM community. Next to digital events, networking sessions and socials, we have also been looking at additional services of added value that will help you in your Sport Management journey.
Get notified
If you have the EASM app downloaded onto your phone, you will receive a push notification whenever we launch a new blog post.
Make sure to stay tuned and use these resources to develop your career!
Contact us
Lastly, if you would like to learn about a specific topic, please do not hesitate to reach out to us! For more information about ourselves and EASM student services, see the student section on our website www.easm.net.
Kind regards,
EASM student team
Christian Overduin – christian.overduin@easm.net
Emma Baker – emma.baker@easm.net
Jakob Wikenstaal – jakob.wikenstaal@easm.net