05 Feb

EASM Summer School
Are you thinking to participate in the 10th EASM Summer School in Madrid in May 2019?
Hear from the Experiences of last year's participant Anna: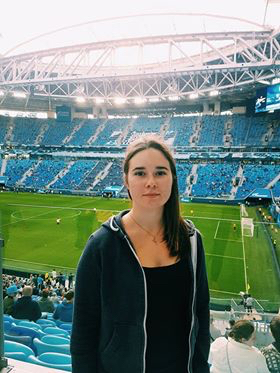 Hello! My name is Anna Semenova and I study Sport Business at JAMK University, Finland. I'm glad to share some of my experiences from the EASM Summer School, which I have attended in May 2018.
EASM Summer School 2018 was one of the most exciting experiences in my life! Never before have I met so many like-minded people in one place, who are eager to learn and become the best professionals in sport management. All Summer School participants came from different universities and countries, including Germany, Netherlands, Finland, Spain, USA, Canada, United Kingdom, Kazakhstan and Russia. The diversity of backgrounds made the learning process engaging and truly unique. Regardless of our differences, we all were united by similar attitude and passion to the sport business industry.
In 2018 the Summer School took place in Madrid – hometown of worldwide famous sport brands such as Real Madrid and Atlético de Madrid. Luckily, the Summer School started on May 16th, the day when Atlético de Madrid became UEFA Europa League champions. I can't even put into words the vibe of the city that evening!
The Summer School had a tight schedule full of lectures, case study assignment preparation, sport venues visits and, of course, cultural program. The learning process would be impossible without the keynote speakers, experienced professionals and experts in their fields. The facilities of Universidad Europea de Madrid, where the lectures and case study assignment were held, supported the learning as well. Imagine seating nearby a pond, enjoying sunny weather and working hard together with your team members from all over the world.
The last, but not the least is that we visited major sport venues in Madrid: Santiago Bernabeu, reconstructed Wanda Metropolitano, Caja Mágica and WiZink Center. It was also encouraging to see and even try the recent inventions and devices at Global Sport Innovation Center. Then, we got the second chance to enjoy views of Santiago Bernabeu stadium during the closing dinner at Real Cafe. Honestly, it was so sad to say goodbye to these amazing people I have met during this Summer School. But we stay in touch (thanks to the EASM Summer School alumni group on Facebook) and I am sure we will meet again in the future and we will be happy to tell our success stories.
To conclude, if you have an opportunity to attend the Summer School, don't miss it! There is no better place than the EASM Summer School to meet international students alongside professionals and experts in sport management, network, visit sport venues and get valuable knowledge. All at once! Why do you still wait?
Information on registration can be found here: http://eventsgb.com/10th-easm-summer-school-2019/