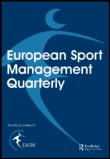 28 Jun

ESMQ: new Impact Score & rise in ranking

Breaking News: The recently announced 2014 new Impact Factor score for
ESMQ is 0.980. This is the journal's highest score to date.
Additionally, ESMQ's rank in the Hospitality, Leisure, Sport & Tourism JCR
category has risen 6 places from last year to 22nd.

We would like to particularly thank the authors who have contributed to
this great result; together with our Editorial Board members and the many
ad hoc reviewers whose excellent volunteer work is highly valued and
greatly appreciated.

ESMQ welcomes new submissions that meet its aim of advancing sport
management scholarship.