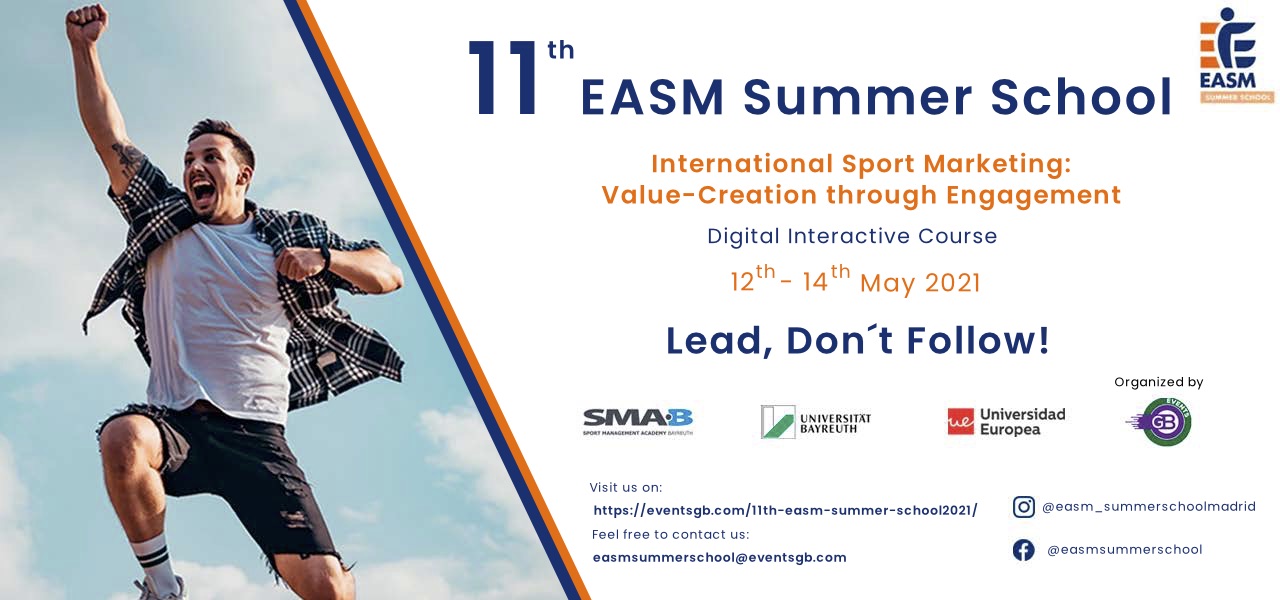 01 Mar

Summer School Scholarships- Deadline Extension
Summer School Scholarships
The EASM Summer School will be returning this May! Though the event will take place digitally, we have prepared a venue so that this experience is a unique educational opportunity for attendees.
Since the conference and EASM Student Seminar will not be taking place, in cooperation with our partners we have extended the scholarship opportunities for students attending the summer school.
EASM, with the financial support of Sport Management Academy Bayreuth (SMAB) and The Alumni Association Sport Management of the University of Bayreuth and the Alberto Madella Scholarship, are offering 15 scholarship opportunities where each student will be supported with 300 €, so that the student pay only 25 €. The EASM scholarship criteria are detailed below.
In addition, the University of Bayreuth are offering 9 scholarship opportunities for University of Bayreuth students only. Bayreuth students are advised to get in contact with Jan Schönberner (jan.schoenberner@uni-bayreuth.de).
The German Sport University Alumni will provide 3 scholarships. The criteria for students of the GSU will be announced soon or alternatively students may request this information by contacting info@ass-alumni.de.
If your university also offer scholarships for the EASM Summer School, please let us know and we are happy to add your organisation to the list.
Application deadline at the individual universities: 19th March 2021
APPLICANTS FOR THE EASM SCHOLARSHIPS MUST
Submit a brief proposal (max. 500 words, including your name, country of residence, current occupation or student status) outlining why you think you should be awarded the scholarship. Please refer to the criteria detailed below to indicate why you would be eligible for the funding. The proposal should:

Confirm that you are studying Sport Management in Higher Education (Diploma, Degree, Masters, PhD)
Outline the motivation for your attendance at the EASM Summer School
Indicate the expected outcome of the EASM Summer School attendance for the future individual career
Outline plans for disseminating learning from the Summer School attendance experience
Confirm that you are not able to attend the EASM Summer School without this funding

Submit a short report of the EASM Summer School (500 words, including a picture in high resolution) no later than 14 days after the end of the Summer School to the EASM office.
HOW TO APPLY:
Please submit your application (motivation letter, CV, references etc.) as one pdf-file (max. 8 MB) via email to Jakob Wikenstaal (jakob.wikenstaal@easm.net) before 19thMarch 2021.
The Alberto Madella Scholarship Fund Committee will inform all applicants with the decision before 27thMarch 2020 via email.