02 Jul

The importance of networking events

The 12th EASM Summer School took place from 11 – 15 May 2022 in Madrid. 52 students participated and in this post you can learn more about three students experiences. Three key takeaways are how to work in the sports field, Value-Creation through engagement and networking, 
EASM Summer School 2022
52 participants from 10 countries were able to benefit from an exciting programme. Presentations, cultural activities and chances to exchange and get to know each other made this event a success. One of the highlights shown in the pictures was the match between Atlético Madrid vs. Sevilla FC.
Here is a more comprehensive list of this year's activities:
Academic and professional lectures around the city
Participation at a case study
Visit to Microsoft Global Sports Innovation Center
Visit to Territorio Atleti – Wanda Metropilitano Stadium
Tour Bernabéu – Real Madrid Stadium
Tickets for La Liga football match: Atletico de Madrid vs. Sevilla F.C.
We will now share three stories from some of 2022's participants.
First impressions of how a work field would look like
Thank you to all the participants. Congratulations to the organisers for setting up this brilliant event. We are already looking forward to the next edition of this wonderful event.
Dear fellow sport management students and sport business fanatic readers of this blog!
My Name is Ben Moss, and I am a second year Sports, Business & Law student at the University of Bayreuth in Bavaria, Germany.
Not only have I gotten the great opportunity to attend this year ́s EASM Summer School in Madrid but also write a review about it and – hopefully – increase your willingness to participate at an upcoming summer school.
Along with 14 other participants from my university, I made my way to Madrid on the 10th of May 2022. On the next day – the first proper day of the EASM Summer School – we were to meet the other participants for the first time. Straight from the beginning we connected with each other and started to form an international network with students – who later have become friends – coming from all over the world: Scandinavia, France, Canada, Turkey, Slovenia… just to name a few. You could really feel the bond created by the shared interest in sport and everyone ́s eagerness to increase their knowledge about sport management and internationalize their studies to be best prepared for our time ahead in the world of sport business.
Over the next days, we were able to listen to intriguing lectures by professionals regarding the main topic "International Sport Marketing – Value-Creation through Engagement". Having learned a lot about value co-creation and engagement at sport events, it was time to apply the learned theory on a practical case study. In an international group of five students each, we were given a few days time to prepare our presentation and work out a strategy on how to enhance the engagement of loyal fans in sports. It was an amazing experience to imitate a sport consultancy with our group and thus get first impressions of how a work field would look like.
Besides the academical time we spent in Madrid, a lot of fun and engaging social activities took place during that week. When you are in the hometown of two major European football clubs, you should not miss the opportunity to attend a football match. Therefore, we visited the Estadio Santiago Bernabéu on Thursday to watch Real Madrid battling UD Levante.
The next day, we visited the Wanda Metropolitano and enjoyed an on-site tour during the morning. It was an amazing experience to walk all the way down to the sideline and have a seat on the bench – the exact same place where the professional players of Atletico Madrid and Sevilla would sit down on Sunday. And if you have not guessed it already, we would be there again to witness an emotional and challenging match with a boiling atmosphere in an astonishing stadium.
Fasting forward to Sunday, the last day of the EASM Summer School, we spent some free time in the city ahead of the game. We had delicious lunch and strolled around to simply absorb the atmosphere of Spain ́s capital. After the game, it was already time for the farewell dinner and we just realized that this defining experience would be over again soon. Despite the sorrow, we spent an unforgettable last evening together to enjoy the time and recap what has been happening during the week.
To sum this week up: Never in my life could I have imagined how much fun, professional expertise and future opportunities the EASM Summer School brought me and my colleagues in such a short time!
A big thanks to everyone involved in creating this unique event! It really was a blast!
Value-Creation through Engagement
Hello! My name is Oneda Reçi and I study MSc in Sport Management at Molde University College. I am happy to share my experience at EASM Summer School 2022 in Madrid
It was such a unique experience participating in the 12th edition of the EASM Summer School in Madrid, together with 52 students from 10 different countries across Europe and Canada. Through a variety of interesting lectures, open discussions, and student-led presentations, we discussed about sport sponsorship, marketing, degrowth, LaLiga strategy, women sports, and sustainable health promotion within sports and fitness industry, through the topic of "Value-Creation through Engagement". I was honored to have lectures from well-known researchers, whose articles accompanied me since the very beginning of my master's studies. Very valuable knowledge for us as future sports managers, very engaging case studies and motivating feedback from the lecturers.
It was even more exiting to visit the GSIC powered by Microsoft, as well as to the biggest football stadiums of Madrid, Wanda Metropolitano.
It was definitely an amazing event, where I gained new insights in the field of International Sport Management Industry and got to know so many sports enthusiastic fellows. Networking with other students and practitioners around the world, with whom I keep contacts with and share possible future opportunities is definitely the most precious thing I could gain from this event.
The visit around the beautiful city of Madrid also is something not to leave unmentioned. Although the schedule involved very hectic and busy days, there was enough time to visit Madrid and enjoy the Spanish culture around!
Thank you everyone for the great experience! It was a pleasure meeting such friendly students around the world and I hope to meet them all again in the near future! If anyone has the opportunity to attend the summer school, don't miss it!!! It will be unforgettable!!! Thank me later 😁
Great networking opportunities
Hi!
My name is Ege Tutuncu. I am a Sport Management Student at Istanbul Bilgi University from Turkey. I participated at the EASM Summer School 2022. I found out about the summer school on Instagram and I happy that I saw it because I really enjoyed it. I had the chance to meet students from other countries such as Canada, Austria, Netherlands, Finland, France, Germany, Norway, Slovakia, Slovenia and Azerbaijan. I am so glad that I could meet them and we had a great networking opportunity ats well as we had cultural exchange with each other.
We had lessons about different topics of sports sector from different lecturers who were capable in their areas. They were great! I specially liked the "LaLiga, Co-Creation in Sport and Sports and Degrowth" lesson.
I had never been to Madrid before but I really liked the city. However if you go to Madrid, you cannot leave the city without watching a football game. Thanks to EASM, who brought to us Wanda Metropolitano Stadium Tour and Atletico Madrid game against Sevilla. The stadium was amazing. The structure, atmosphere, matchday experience were perfect. It would be better, if Luis Suarez scored in his farewell game in Atletico.
To conclude I was so happy to participate at the EASM Summer School. I could suggest it even if it would only mean networking. That was the most important part. Trust me. You will not regret going here next year.
Enjoy Your Summer School
Ege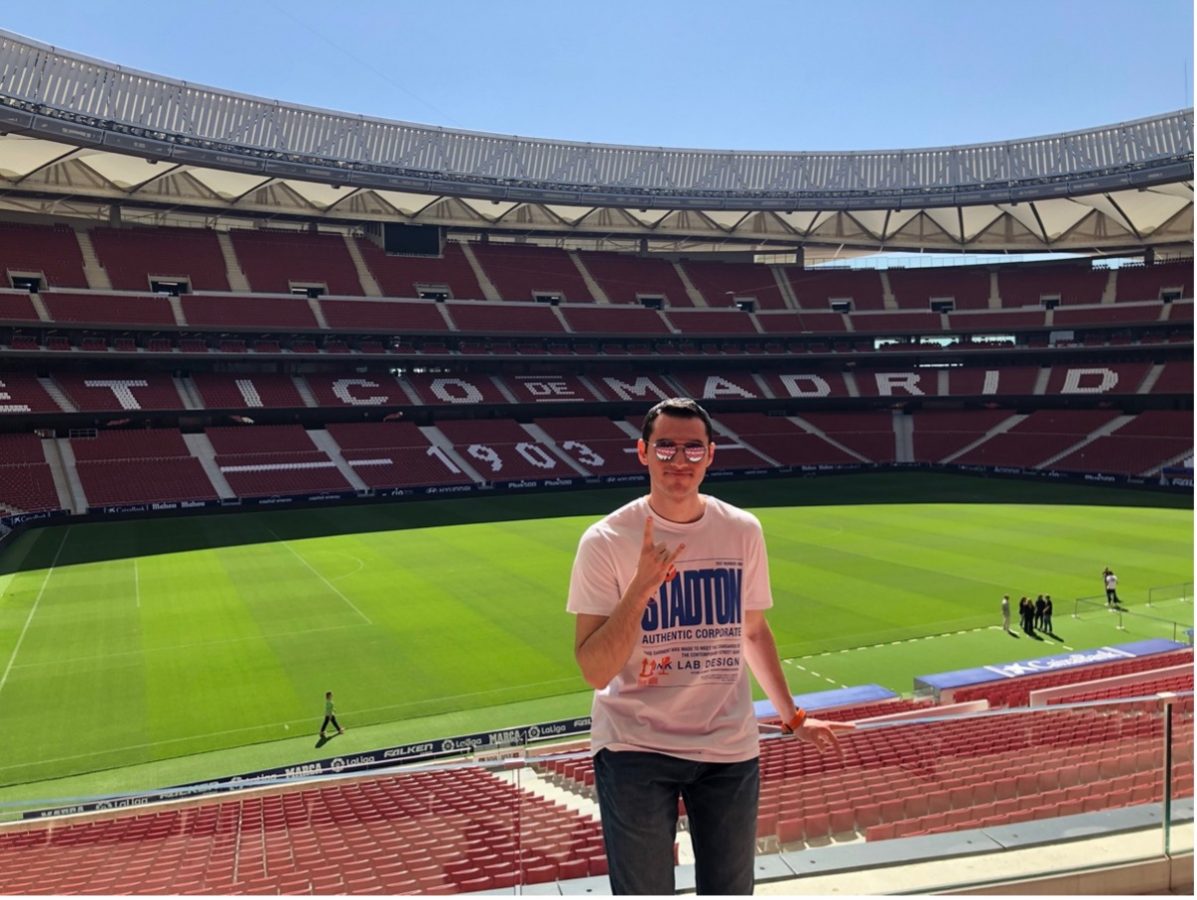 ARE YOU INTERESTED IN MORE INFORMATION?
The European Association for Sport Management Summer School is a great opportunity for students and practitioners to enrich their degree with new insights in the field of International Sport Management Industry, Business and Marketing, among others. Participants have the chance to build up their own international network within the sport business and to work with others from all over the world.
Check out our website: https://eventsgb.com/12easm-summer-school/
Head to our Facebook Fanpage: https://www.facebook.com/easmsummerschool/
Contact us at: easmsummerschool@eventsgb.com